BREAKING DOWN BARRIERS
Mobile therapy unit providing outreach to underserved rural communities in ND
C.S. Hagen / The Forum
Stacey Reek, a physical therapist, taking notes on a laptop while therapist Bobbie Sunderland works with a patient, Reese Hogness, 10, on September 8 on the Beyond Boundaries Therapy bus in Milnor, North Dakota.
The Beyond Boundaries Therapy bus in Milnor, North Dakota.
Photos by C.S. Hagen / The Forum
Bobbie Sunderland, left, and Stacey Reek, preparing the Beyond Boundaries Therapy bus for therapy sessions in Milnor, ND on September 8.
Stacey Reek, a physical therapist, working on her computer inside the Beyond Boundaries Therapy bus in Milnor, North Dakota.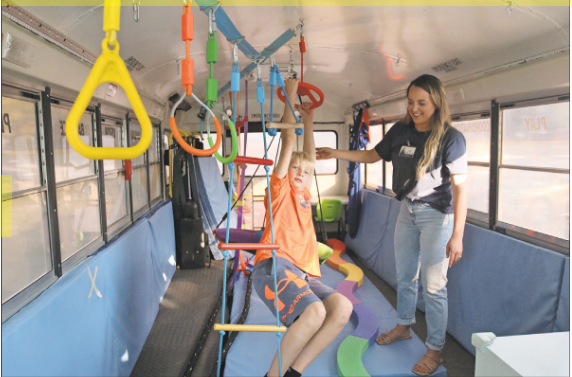 Physical therapist Bobbie Sunderland working with 10-year-old Reese Hogness on the Beyond Boundaries Therapy Bus.
Milnor, N.D.

Reese Hogness bounded into the "Sunny the Sunshine bus," a smile stretching ear to ear.

After taking off his shoes, the 10-yearold began practicing what he called a ninja course, first grabbing onto a plastic handle to swing his legs across the obstacle course. He almost made it without his feet touching the ground.

Bobbie Sunderland and Stacey Reek, both physical therapists aboard the bus, a Mobile Therapy Unit with Beyond Boundaries Therapy, cheered him on as he attempted a second lap.

A year ago, before the Mobile Therapy Unit began makings its rounds into rural North Dakota, Hogness said he had a problem with anger.

"I would get mad and punch them, now I just walk away," Hogness said, not clarifying. "I don't have my anger issues anymore."

The idea behind the Mobile Therapy Unit, now nicknamed "Sunny" by children, came from LaDonna Bannach, president and CEO of Beyond Boundaries Therapy, a private occupational therapy that facilitates the programming for the nonprofit House of Everyday Learning.

The two Fargo-based therapy and screening programs began the effort because they heard from rural parents that the drive to Fargo for appointments was a barrier due to the added expense and time away from work and school.

Although Bannach had a vision of a mobile unit for years, the coronavirus pandemic helped spur the idea into action during the summer of 2021, she said.

The Mobile Therapy Unit is a state-of-the art mobile sensory/ motor gym that drives to underserved communities to help, and is the only mobile therapy unit in the Midwest, Bannach said.

Now just a year later this past June, Beyond Therapy Services and the House of Everyday Learning was awarded an Outstanding Rural Health Program Award for their health initiatives.

Within five months of operation, the Mobile Therapy Unit screened 112 children. Since then, they've screened dozens more and are planning to grow, Reek said.

"The vision was one thing, but to make it a reality took a village," Bannach said. "We hope to continue for years and expand."

Bannach grew up in a rural area, and she has watched services like therapy disappear over the years.

"When I became a therapist I saw the need was so great in rural areas, so breaking down the barriers is our vision, mission and goal to provide help to anyone who needs it," Bannach said.

Medical screenings are free, and treatment payments are worked out with insurance companies. If a family doesn't have adequate insurance, there are options, Bannach said.

The unit's goal is to decrease barriers for families in rural areas that find difficulties bringing children in for specialized care. The unit began by screening hundreds of people in the Milnor and Leeds area and beyond, and are now driving once a week to Milnor, treating 25 children under the age of 18.

In a way, the mobile unit is a throwback to more than a century ago, not including the 300 horsepower, when doctors would travel from town to town looking for clients to help, Reek said.

"We've been able to knock down the barriers, otherwise, I don't know if we'd have ever seen these kids in the clinic," Sunderland said.

As Sunderland continued working on balance skills with Hogness, Reek typed at a computer in a small cubicle behind the driver's seat.

The vehicle, which resembles an old school bus, is spacious enough to accommodate the tools and toys needed to help children.

"In a way, there is a health desert in rural areas. I wouldn't call it a crisis, but with us being present we've been able to reach kids that we wouldn't have been able to, and their lives are a little better," Sunderland said.

In addition to helping individual children, Reek and Sunderland are collaborating with rural schools, daycare centers and teachers to help continued development of children with physical or cognitive issues.

When Hogness finished the obstacle course, he was asked: "What is it you like about this therapy?"

He took a moment to think about his answer, before pointing to the therapists, "Umm, you."

Readers can reach Forum reporter C.S. Hagen at 701-241-5535 or at cshagen@forumcomm.com.